Guide to the Office of the Secretary of State Barbara M. Leonard records , 1993-1994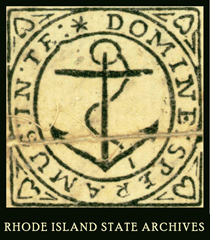 Rhode Island State Archives
Rhode Island State Archives
337 Westminster Street
Providence, RI 02903
Tel: 401-222-2353
Fax: 401-222-3199
email: statearchives@sos.ri.gov


Published in 2009
Collection Overview
| | |
| --- | --- |
| Title: | Office of the Secretary of State Barbara M. Leonard records |
| Date range: | 1993-1994 |
| Creator: | Rhode Island. Dept. of State |
| Extent: | 6.6 cubic feet other |
| Abstract: | The Office of the Secretary of State Barbara M. Leonard records consists of subject files maintained by the Administrative Office, Hope Spruance, Chief of Staff and span the dates 1993-1994 reflecting the one term of Secretary of State Barbara Leonard. |
| Language of materials: | English |
| Repository: | Rhode Island State Archives |
| Collection number: | 1998-22 |
Scope & content
Per RIGL§ 42-8-7. "The secretary of state shall keep a copy of every official letter sent by him or her, and shall preserve all public letter received by him or her."
Records are subject files maintained by the Administrative Office, Hope Spruance, Chief of Staff and span the dates 1993-1994 reflecting the one term of Secretary of State Barbara Leonard. They contain correspondence, memos and publications. The files primarily reflect activities within the divisions of the Department of State (i.e. Archives, Elections, Corporations, Administrative Records). Where no folder existed, items were foldered and folder title assigned in brackets [] according to subject. Where a folder title did not accurately reflect contents, a description is noted in brackets []. It is not apparent to the processor if this series of subject files were arranged in a strict alphabetical sequence or if they were grouped according to Division. Where necessary, items that were misfiled were re-filed into the appropriate subject file.
Accession 2003-47 is a closed law case (January 24, 1993) involving a complaint against lobbyists by Charles M. Silverman of Operation Clean Sweep. The complaint stipulates that several lobbyists did not conspicuously display their lobbyist badges while conducting business at the state house.
Arrangement
The Office of the Secretary of State Barbara M. Leonard records are arranged into the following series:
Series 1. Subject Files, 1993-1994
Historical note
The Department of State is the general recording officer and serves as the secretary of the senate; prepares all ballot labels and maintains the central voter registry, keeps all corporate records, registers notaries, administers the commercial code, has custody of the state seal, keeps original copies of all enacted laws and administers the state archives and state library.
Access & Use
Access to the collection:
No special restrictions unless otherwise specified.
Use of the materials:
Copyright is in the public domain unless otherwise specified. We reserve the right to restrict reproduction of materials due to preservation concerns.
Preferred citation:
Office of the Secretary of State Barbara M. Leonard records, 1998-22, Rhode Island State Archives.
Contact information:
Rhode Island State Archives
Rhode Island State Archives
337 Westminster Street
Providence, RI 02903
Tel: 401-222-2353
Fax: 401-222-3199
email: statearchives@sos.ri.gov

Administrative Information
| | |
| --- | --- |
| ABOUT THE COLLECTION |   |
| Acquisition: | Transferred from Administrative Office of the Office of the Secretary of State on February 19, 1997. Additional accruals were transferred on September 29, 1999 and February 1, 2003. |
| Custodial history: | Records as produced by the Administrative Office of the Office of the Secretary of State within the Department of State. Subsequently transferred to the State Archives. |
| | |
| | |
| ABOUT THE FINDING AID |   |
| Author: | Finding aid prepared by Kate Telford. |
| Encoding: | Finding aid encoded by Kate Telford 2009 May 21 |
| Descriptive rules: | Finding aid based on Describing Archives: A Content Standard (DACS) |
Additional Information
Inventory
---
Series 1. Subject Files
Box 1-6