Guide to the Office of the Secretary of State James R. Langevin records , 1995-2000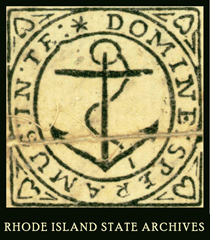 Rhode Island State Archives
Rhode Island State Archives
337 Westminster Street
Providence, RI 02903
Tel: 401-222-2353
Fax: 401-222-3199
email: statearchives@sos.ri.gov


Published in 2009
Collection Overview
| | |
| --- | --- |
| Title: | Office of the Secretary of State James R. Langevin records |
| Date range: | 1995-2000 |
| Creator: | Rhode Island. Dept. of State |
| Extent: | 57.32 cubic feet other |
| Abstract: | The Office of the Secretary of State James R. Langevin records include subject files, case files, videos, photographs and publications (created by the Office of the Secretary of State and outside agencies) memoranda and correspondence relating to various issues and events. |
| Language of materials: | English |
| Repository: | Rhode Island State Archives |
| Collection number: | 2000-70 |
Scope & content
The Office of the Secretary of State James R. Langevin records include subject files, case files, videos, photographs and publications (created by the Office of the Secretary of State and outside agencies) memoranda and correspondence relating to various issues and events. A notable issue relates to the attempt by the General Assembly to remove General Officers from their offices in the State House (see Office Space files, 1996-1997).
Arrangement
The Office of the Secretary of State James R. Langevin records are arranged into the following series:
Series 1. Records of Rebecca Mattos - Special Projects Coordinator
Series 2. Records of Peter Kerwin - Communications Director
Series 3. Correspondence
Series 4. Records of Richard Glucksman - Policy Coordinator 1995-2000, Deputy Chief of Staff 1999-2000
Series 5. Records of John Tabella - Chief of Staff 1995-1999
Series 6. General Files from Room 218
Series 7. Correspondence - James Langevin, Secretary of State 1995-2000
Series 8. Records of John Palangio, Deputy Chief of Staff, 1995-1999, Chief of Staff 1999-2000
Series 9. Videotapes
Series 10. Photographs
Series 11. Records of Norman Beauchemin, Policy Analyst
Series 12. "Access Denied" Records
Series 13. Speeches (1995-1998), Governor's Portrait Commission files (2003-21)
Historical note
The Department of State is the general recording officer and serves as the secretary of the senate, prepares all ballot labels and maintains the central voter registry, keeps all corporate records, registers notaries, administers the commercial code, has custody of the state seal, keeps original copies of all enacted laws and administers the state archives and state library.
James R. Langevin served as Secretary of State from 1995 until January 10, 2001 when he was sworn in as Congressman from the 2nd Congressional District in Rhode Island. His administration is credited with replacing antiquated (Shoup lever) voting machines with the optical scan ballot system; promoting open government with access to public records and open meetings; publishing "Access Denied: Chaos, Confusion and Closed Doors," a report on the General Assembly's Compliance with the Letter and Spirit of the Open Meeting Law in conjunction with the Alfred Taubman Center for Public Policy at Brown University; and providing the public with online, comprehensive, daily and weekly reports on the activities of the General Assembly through the department's website and public kiosks.
Access & Use
Access to the collection:
No special restrictions unless otherwise specified.
Use of the materials:
Copyright is in the public domain unless otherwise specified. We reserve the right to restrict reproduction of materials due to preservation concerns.
Preferred citation:
Office of the Secretary of State James R. Langevin records, 2000-70, Rhode Island State Archives.
Contact information:
Rhode Island State Archives
Rhode Island State Archives
337 Westminster Street
Providence, RI 02903
Tel: 401-222-2353
Fax: 401-222-3199
email: statearchives@sos.ri.gov

Administrative Information
| | |
| --- | --- |
| ABOUT THE COLLECTION |   |
| Acquisition: | Transferred from Nancy Beattie (Room 218) and Steve Elmasian, (Room 6), State House, Providence, R.I. 02903 on December 22 and 28, 2000. |
| Accruals: | Accession: 2002-02. Received: January 7, 2002. Cubic Feet: .08 cubic feet. Transferred: Ana Cabrera, Communications Director Accession: 2002-12. Received: February 27, 2002. Cubic Feet: .60 cubic feet Accession: 2003-15. Received: January 15, 2003. Cubic Feet: 2.4 cubic feet. Transferred: Stacy DiCola, Public Information Accession: 2003-41 Accession: 2005-48. Cubic Feet: .5 cu. ft. Accession: 2006-44 |
| | |
| | |
| ABOUT THE FINDING AID |   |
| Author: | Finding aid prepared by Kate Telford. |
| Encoding: | Finding aid encoded by Kate Telford 2009 May 20 |
| Descriptive rules: | Finding aid based on Describing Archives: A Content Standard (DACS) |
Additional Information
Inventory
---
Series 1. Records of Rebecca Mattos - Special Projects Coordinator
Box 1-4
| | | | | |
| --- | --- | --- | --- | --- |
| Container | | Description | | Date |
Series 2. Records of Peter Kerwin - Communications Director
Box 3
| | | | | |
| --- | --- | --- | --- | --- |
| Container | | Description | | Date |
Series 3. Correspondence
Box 4
| | | | | |
| --- | --- | --- | --- | --- |
| Container | | Description | | Date |
Series 4. Records of Richard Glucksman - Policy Coordinator 1995-2000, Deputy Chief of Staff 1999-2000
Box 5-24
| | | | | |
| --- | --- | --- | --- | --- |
| Container | | Description | | Date |
Series 5. Records of John Tabella - Chief of Staff 1995-1999
Box 25-31
| | | | | |
| --- | --- | --- | --- | --- |
| Container | | Description | | Date |
Series 6. General Files from Room 218
Box 32-33
| | | | | |
| --- | --- | --- | --- | --- |
| Container | | Description | | Date |
Series 7. Correspondence - James Langevin, Secretary of State 1995-2000
Box 34
| | | | | |
| --- | --- | --- | --- | --- |
| Container | | Description | | Date |
Series 8. Records of John Palangio, Deputy Chief of Staff, 1995-1999, Chief of Staff 1999-2000
Box 34-35
| | | | | |
| --- | --- | --- | --- | --- |
| Container | | Description | | Date |
Series 9. Videotapes
Box 36
| | | | | |
| --- | --- | --- | --- | --- |
| Container | | Description | | Date |
Series 10. Photographs
Box 37-39
| | | | | |
| --- | --- | --- | --- | --- |
| Container | | Description | | Date |
Series 11. Records of Norman Beauchemin, Policy Analyst
Box 40
| | | | | |
| --- | --- | --- | --- | --- |
| Container | | Description | | Date |
Series 12. "Access Denied" Records- Includes underlying and supporting documentation that produced the report "Access Denied" from the Department of State, Office of the Secretary of State James Langevin. This report was done with Brown University students and professors and aimed to document the workings of the legislative committees of the 1997 legislative session. With staff of the Office of the Secretary of State (Administration, Public Information and State Library) its purpose was to document those committees that did and did not followed the letter and spirit of the Open Meetings Law.
Box 40
| | | | | |
| --- | --- | --- | --- | --- |
| Container | | Description | | Date |
Series 13. Speeches (1995-1998), Governor's Portrait Commission files (2003-21)
Box 43