Guide to the Rhode Island Department of Health Library records , 1850-2006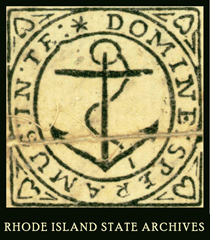 Rhode Island State Archives
Rhode Island State Archives
337 Westminster Street
Providence, RI 02903
Tel: 401-222-2353
Fax: 401-222-3199
email: statearchives@sos.ri.gov


Published in 2009
Collection Overview
| | |
| --- | --- |
| Title: | Rhode Island Department of Health Library records |
| Date range: | 1850-2006 |
| Creator: | Rhode Island. Dept. of Health |
| Extent: | 51.6 cubic feet (42 boxes) other |
| Abstract: | The Rhode Island Department of Health Library records consist primarily of annual reports and other reports of the Department of Health and its offices and divisions as well as the Providence Health Department. |
| Language of materials: | English |
| Repository: | Rhode Island State Archives |
| Collection number: | 2006-27 |
Scope & content
The Rhode Island Department of Health Library records consist primarily of annual reports and other reports of the Department of Health and its offices and divisions as well as the Providence Health Department. The holdings also include publications of the various offices and divisions of the Department. Included are records of the Rhode Island Health Care Reform Commission. The collection also includes information on the history of the Health Department Library (See Box 9, f.11 and Boxes 40 and 41), the library's history /vertical files (see Boxes 9-12), accession registers (1940-1991, Box 40), library statistics, annual reports, a policy manual and newsletters (Box 40). The collection also includes 4 photographs: RIDOH Free Chest X-Ray Bus, 1955 and 3 photographs of aerial views of the Rhode Island Department of Health Cannon building c. 1970.
Arrangement
The collection is arranged into the following series:
Series 1. Annual Reports and Special Reports
Series 2. Library History
Series 3. Publications
Series 4. VHS Tapes
Historical note
The Health Library was organized in 1939 with funds that became available under the Social Security Act. Initially, it was located in rooms 364 and 143-A of the State Office Building located across the street from the State House. The library was subsequently moved to Room 407 in the new Health Department Building (Cannon Building) in August 1971. The library was primarily a reference and specialized library in public health and preventive medicine and served the staff of the Department of Health. The library also provided services to state government, health workers, students and the general public. In the 1970's the library was named after Dr. Gertrude E. Sturges, a noted public health figure in Rhode Island. The library was closed in September 2006 with the intent to consolidate library services across other health services departments and to provide a virtual library in its place. Its holdings were dispersed to appropriate repositories, a portion of which was transferred to the State Archives Division of the Office of the Secretary of State. The Department of Health Library was the only public health library in the state of Rhode Island.
Access & Use
Access to the collection:
No special restrictions unless otherwise specified.
Use of the materials:
Copyright is in the public domain unless otherwise specified. We reserve the right to restrict reproduction of materials due to preservation concerns.
Preferred citation:
Rhode Island Department of Health Library records, 2006-27, Rhode Island State Archives.
Contact information:
Rhode Island State Archives
Rhode Island State Archives
337 Westminster Street
Providence, RI 02903
Tel: 401-222-2353
Fax: 401-222-3199
email: statearchives@sos.ri.gov

Administrative Information
| | |
| --- | --- |
| ABOUT THE COLLECTION |   |
| Acquisition: | Transferred from Deborah Porazzo, Librarian at the Department of Health Library in 2006. |
| | |
| | |
| ABOUT THE FINDING AID |   |
| Author: | Finding aid prepared by Kate Telford. |
| Encoding: | Finding aid encoded by Kate Telford 2009 April 09 |
| Descriptive rules: | Finding aid based on Describing Archives: A Content Standard (DACS) |
Additional Information
| | |
| --- | --- |
| Related material: | Providence Health Department photographs, 1857-1977. Collection number: 00294 |
Inventory
---
Series 1. Annual Reports
Box 1-8
| | | | | |
| --- | --- | --- | --- | --- |
| Container | | Description | | Date |
Series 2. Library History
Box 9-12
| | | | | |
| --- | --- | --- | --- | --- |
| Container | | Description | | Date |
Series 3. Publications
Box 12-42
| | | | | |
| --- | --- | --- | --- | --- |
| Container | | Description | | Date |
Series 4. VHS Tapes
Box 41
| | | | | |
| --- | --- | --- | --- | --- |
| Container | | Description | | Date |