Guide to the Thomas William Moore letter, 1812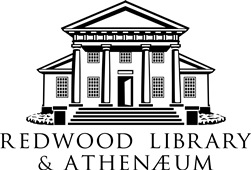 Redwood Library and Athenaeum
50 Bellevue Avenue
Newport, RI 02840
Tel: (401) 847-0292
Fax: (401) 841-5680
email: redwood@redwoodlibrary.org


Published in 2013
Collection Overview
| | |
| --- | --- |
| Title: | Thomas William Moore letter |
| Date range: | 1812 |
| Creator: | Moore, Thomas William, fl. 1812 |
| Extent: | 0.01 linear feet (1 folder) |
| Abstract: | This collection consists of one letter from Thomas William Moore in New York with confirmation from a British admiral that Newport, Rhode Island, would not be threatened by an attack from the British during the War of 1812. |
| Language of materials: | English |
| Repository: | Redwood Library and Athenaeum |
| Collection number: | RLC.Ms.527 |
Scope & content
This collection consists of one letter from Thomas William Moore in New York to Lucy on August 9, 1812, in which he confirms from a British admiral that Newport, Rhode Island, will not be threatened by an attack from the British during the ongoing War of 1812. Lucy may be Moore's sister or sister-in-law since he suggests that Lucy show this letter to "Mother + the Girls." Moore also writes the name, Miss Ruth Gibbs, on the bottom corner on the front page of the letter. Ruth (1778-1870) was the sister of Mary Gibbs and would later go on to marry William Ellery Channing (1780-1842) in 1814.
Arrangement
This collection is arranged in chronological order.
Biographical note
Thomas William Moore was most likely married to Mary Gibbs (1776-1813) of Newport, Rhode Island, and resided in New York during the War of 1812 (1812-1815).
Access & Use
Access to the collection:
Access is open to members and researchers at the Redwood Library and Athenaeum.
Use of the materials:
This collection is owned by the Redwood Library and Athenaeum. Permission to publish materials must be obtained in writing from the Special Collections Librarian of the Redwood Library and Athenaeum.
Preferred citation:
Thomas William Moore letter, RLC.Ms.527, Redwood Library and Athenaeum.
Contact information:
Redwood Library and Athenaeum
50 Bellevue Avenue
Newport, RI 02840
Tel: (401) 847-0292
Fax: (401) 841-5680
email: redwood@redwoodlibrary.org

Administrative Information
| | |
| --- | --- |
| ABOUT THE COLLECTION |   |
| Acquisition: | Gift of Maris Humphreys, 2002 June 13. |
| Processing information: | This collection was initially processed by Aimee Saunders in 2010. |
| | |
| | |
| ABOUT THE FINDING AID |   |
| Author: | Finding aid prepared by Elizabeth Delmage. |
| Encoding: | Finding aid encoded by Elizabeth Delmage 2013 September 20 |
| Descriptive rules: | Finding aid based on Describing Archives: A Content Standard (DACS) |
| Sponsor: | Funding for processing and cataloging this collection was provided by the van Beuren Charitable Foundation. |
Additional Information
Inventory
---
| | | | | |
| --- | --- | --- | --- | --- |
| Manuscripts Box 1 | | Letter to Lucy | | 1812 Aug 9 |