Guide to the Edith Wharton letters, 1883-1937
(bulk 1917-1925)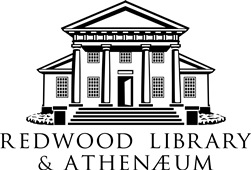 Redwood Library and Athenaeum
50 Bellevue Avenue
Newport, RI 02840
Tel: (401) 847-0292
Fax: (401) 841-5680
email: redwood@redwoodlibrary.org


Published in 2014
Collection Overview
| | |
| --- | --- |
| Title: | Edith Wharton letters |
| Date range: | 1883-1937, (bulk 1917-1925) |
| Creator: | Wharton, Edith, 1862-1937 |
| Extent: | 0.2 linear feet (2 folders) |
| Abstract: | Letters and photocopies of letters written by renowned American author, Edith Wharton (1862-1937) to various members of Newport, Rhode Island society. |
| Language of materials: | English |
| Repository: | Redwood Library and Athenaeum |
| Collection number: | RLC.Ms.569 |
Scope & content
This collection consists of two original letters and photocopies of letters written to members of Newport society such as Mrs. Morris in the care of Horace Gallatin, Mrs. Gallatin, and members of the King family including LeRoy King (1857-1895), his wife Ethel Rhinelander King (1857-1925), and their daughter Ethel King Russell (1895-1971). In these letters, Wharton maintains friendly correspondence relating various travel plans, social outings, mutual acquaintances, and her work. Also included are typed transcriptions of each letter.
Arrangement
This collection is arranged in chronological order.
Biographical note
Edith Newbold Jones Wharton (1862-1937), renowned American author, was born on January 24, 1862, into a wealthy New York family. Edith's family lived between New York and their summer cottage in Newport, Rhode Island. Edith married Edward R. Wharton in 1885 and together they lived between homes in New York, Newport, and Massachusetts until they divorced in 1913.
Edith Wharton used her upbringing as inspiration for her novels and short stories. Throughout her lifetime she published twenty-two novels, eleven collections of short stories, two poetry volumes, four travel books, and an autobiography among other works of non-fiction, articles, and translations. Her most critically acclaimed works include
The House of Mirth
(1905),
Ethan Frome
(1911), and
The Age of Innocence
(1920) for which she won the Pulitzer Prize.
Wharton died at her home in France on August 11, 1937, at the age of seventy-five.
Access & Use
Access to the collection:
Access is open to members and researchers at the Redwood Library and Athenaeum.
Use of the materials:
This collection is owned by the Redwood Library and Athenaeum. Permission to publish materials must be obtained in writing from the Special Collections Librarian of the Redwood Library and Athenaeum.
Preferred citation:
Edith Wharton letters, RLC.Ms.569, Redwood Library and Athenaeum.
Contact information:
Redwood Library and Athenaeum
50 Bellevue Avenue
Newport, RI 02840
Tel: (401) 847-0292
Fax: (401) 841-5680
email: redwood@redwoodlibrary.org

Administrative Information
| | |
| --- | --- |
| ABOUT THE COLLECTION |   |
| Acquisition: | Gift of Elizabeth Morris Smith, 1988 Nov 10 |
| Processing information: | Prior to processing in 2014, this collection was found within the Steel Cabinet collection: Drawer 7, Folder 13. |
| | |
| | |
| ABOUT THE FINDING AID |   |
| Author: | Finding aid prepared by Elizabeth Delmage. |
| Encoding: | Finding aid encoded by Elizabeth Delmage 2014 October 08 |
| Descriptive rules: | Finding aid based on Describing Archives: A Content Standard (DACS) |
| Sponsor: | Funding for processing and cataloging this collection was provided by the van Beuren Charitable Foundation. |
Additional Information
| | |
| --- | --- |
| Related material: | Edith Wharton Collection. Yale Collection of American Literature. Beinecke Rare Book and Manuscript Library. |
| Location of originals: | The original letters were owned by Nicholas King of New York City at the time these copies were donated by Mrs. Smith. It is not apparent whether these original letters are still in the possession of the King family or in another repository. |
| Bibliography: | Edel, Leon. Henry James, Edith Wharton, and Newport.Newport, R.I.: Redwood Library and Athenaeum, 1966. |
Inventory
---
| | | | | |
| --- | --- | --- | --- | --- |
| Manuscripts Box 2, Folder 1 | | Letters (originals) | | 1917 Sep 14 and undated |
| | | | | |
| --- | --- | --- | --- | --- |
| Manuscripts Box 2, Folder 2 | | Letters (photocopies) | | 1883 Jul 15-1937 Dec 22 |