John Russell Bartlett papers, 1832-1886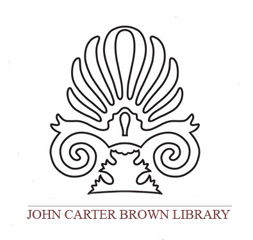 John Carter Brown Library
Box 1894
Brown University
Providence, RI 02912
Tel: (401) 863-2725
email: JCBL_Information@brown.edu


Published in 2013
Collection Overview
| | |
| --- | --- |
| Title: | John Russell Bartlett papers |
| Date range: | 1832-1886 |
| Creator: | Bartlett, John Russell, 1805-1886 (h1848) |
| Abstract: | The collection encompasses the years 1832-1886, consisting of personal correspondence comprised of loose letters, drafts of various manuscripts and clippings, two hundred and thirty-six watercolor paintings and drawings from the Mexican Boundary Commission Survey and eleven folio volumes from the Mexican Boundary Commission. |
| Language of materials: | English |
| Repository: | John Carter Brown Library |
| Collection number: | JRB Papers |
Scope & content
A bookseller, author, artist, ethnographer, historian, politician and librarian, John Russell Bartlett was an individual of varied academic interests. The John Russell Bartlett Papers are a collection of materials that represent records of his professional life, shown through business dealings and academic endeavors, as well as personal correspondence. The Papers also contain eleven volumes of the Mexican Boundary Survey Commission Papers, a collection of bound correspondence, official government dispatches, journals, scrapbook and a series of watercolors and drawings. Also included in the Bartlett Papers are two composition books created by Eliza Rhodes Bartlett, the first wife of John Russell Bartlett, which include calligraphy, poems, short stories and sketches.
Arrangement
The collection is arranged into three series, with six sub-series chronologically and by subject and record type.
Biography
John Russell Bartlett (1805-1886) was born in Providence, Rhode Island, but was raised in Kingston, Ontario, Canada, later returning to Providence as a young adult. In 1831, he married Eliza Rhodes (1810-1853) and had seven children, only four of whom survived childhood. Eliza Rhodes Bartlett passed away in 1853. He then married Ellen Eddy (1829-1913) in 1863. Bartlett was an individual of diverse talents and interests, most notably as a book publisher, author, businessman, artist, ethnographer, historian, politician and librarian. He held many prominent positions during his lifetime, including many institutions that are still in existence today. He was a co-founder, librarian, treasurer, and cataloger of the Providence Athenaeum in 1831, co-founder of the American Ethnological Society in 1846 with Albert Gallatin, the corresponding secretary of the New York Historical Society, among many others. He published the first edition of his Dictionary of Americanisms in 1848, the same year he was given an honorary Masters of Arts degree from Brown University. In 1850, he was appointed the position of Mexican Boundary Survey Commissioner by President Zachary Taylor. He held this position until 1853 when he was removed. In 1854, he published a book of his time as Boundary Survey Commissioner entitled "Personal Narrative of Incidents & Explorations in Texas, New Mexico, California, Senora, etc." From 1855 until 1872 he held the position of Secretary of State of the State of Rhode Island. It was during this time he began an active interest in Rhode Island history by organizing and arranging the state's colonial records and publishing them. From 1855 until his death in 1886, Bartlett served as advisor and librarian for John Carter Brown's Library of Americana, and compiled its first catalog, the Bibliotheca Americana, in 1865.
Access & Use
Access to the collection:
The John Carter Brown Library collections are restricted to use by qualified scholars, engaged in productive research, for whom access to a collection is essential for the advancement of their work. All researchers must register and submit at least two forms of identification, including a driver's license or passport with a photo. Students and unaffiliated scholars must also have a written endorsement of their project from an established college or university professor.
Use of the materials:
Researchers are advised that express written permission to reproduce, quote, or otherwise publish any portion or extract from this collection must be obtained from the John Carter Brown Library. Although the John Carter Brown Library has physical ownership of the collection and the materials contained therein, it does not claim literary rights. It is up to the researcher to determine the owners of the literary rights and to obtain any necessary permissions from them.
Preferred citation:
Contact information:
John Carter Brown Library
Box 1894
Brown University
Providence, RI 02912
Tel: (401) 863-2725
email: JCBL_Information@brown.edu

Administrative Information
ABOUT THE COLLECTION
 
Custodial history:
The Mexican Boundary Commission Records, watercolors and drawings were donated to the John Carter Brown Library by John Russell Bartlett in 1881. Upon John Russell Bartlett's death in 1886, the remaining papers and manuscripts were retained by the John Carter Brown Library. In 1915, John Russell Bartlett's grandson, Henry A. DuVillard donated 7 volumes of correspondence to the John Carter Brown Library.
Processing information:

Processing Information

Annual Reports of the John Carter Brown Library 1915, 1960-1965, 1968
Microfilm inventory of The Mexican Boundary Commission Papers with basic descriptions created 1970, revised in 1994
Watercolors and drawings (1850-1852) inventory created 1994
An Annotated Guide to the Artwork of the United States Boundary Commission, 1850-1853, Under the Direction of John Russell Bartlett 1994
Correspondence inventory created 2001 by Gabe Najera
Correspondence and Writings and Research rehoused by Anthony M. Belz January 2012- July 2013

ABOUT THE FINDING AID
 
Author:
Finding aid prepared by Anthony M. Belz
Encoding:
This finding aid was produced using the Archivists' Toolkit
Revisions:

July 2013

Once rehousing of the papers was completed, the Finding Aid needed to be revised in order to reflect new box number assignments.
Descriptive rules:
Describing Archives: A Content Standard (DACS)
Additional Information
| | |
| --- | --- |
| Related material: | John Russell Bartlett Papers at the Rhode Island Historical Society Manuscripts Division. John Russell Bartlett Watercolors and Drawings at the Smithsonian Institution Archives of American Art |
| Alternative guide: | Bartlett, John Russell. [Autobiographical memoir of his life from 1805 to 1865 and of his visits to Europe in 1867 and 1873, with additional notes and auto-biographies]. [Providence, 1871?]. Codex Eng 137. Bartlett, John Russell. Diary of [my] trip to Europe [5 June - 6 December] 1872. [Providence, after 6 December 1872]. Codex Eng 138. Scrapbook of newspaper clippings on bibliographical subjects, cut and saved by John Russell Bartlett. [New York, Providence, London, etc. 1882 - 1885]. Codex =Eng 142 [Family letters.] Album compiled by Bartlett from various family letters in his possession. Codex Eng 171 1-SIZE. Author: Finding aid prepared by Anthony M. Belz, November 2011, Revised July 2013 Encoding: Encoded Archival Description (EAD). Finding aid encoded by Archivists' Toolkit, October 2013 Descriptive rules: Finding aid based on Describing Archives: A Content Standard (DACS) |
Inventory
---
Series I: Correspondence, 1832-1886
17.0 boxes
| | | | | |
| --- | --- | --- | --- | --- |
| Container | | Description | | Date |
Series II: Writings and Research, 1832-1880
Manuscripts
| | | | | |
| --- | --- | --- | --- | --- |
| Container | | Description | | Date |
Clippings and Research
Subjects: Journalism -- Research
Journalism -- Rhode Island

| | | | | |
| --- | --- | --- | --- | --- |
| Container | | Description | | Date |
Associated Documents
Series III: Mexican Boundary Commission Survey Records, 1850-1853
Records
| | | | | |
| --- | --- | --- | --- | --- |
| Container | | Description | | Date |
Materials
Watercolors and Drawings
| | | | | |
| --- | --- | --- | --- | --- |
| Container | | Description | | Date |