Guide to the John Carter family papers , 1769-1917
(bulk 1769-1844)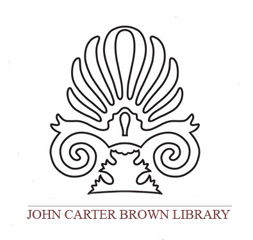 John Carter Brown Library
Box 1894
Brown University
Providence, RI 02912
Tel: 401-863-2725
Fax: 401-863-3477
email: jcbl_information@brown.edu


Published in 2010
Collection Overview
| | |
| --- | --- |
| Title: | John Carter family papers |
| Date range: | 1769-1917, (bulk 1769-1844) |
| Creator: | Carter, John, 1745-1814 |
| Extent: | .5 linear foot |
| Abstract: | Correspondence and other papers related to Providence printer and newspaper publisher, John Carter (1745 - 1814), and his family. |
| Language of materials: | English |
| Repository: | John Carter Brown Library |
| Collection number: | Ms. Carter |
Scope & content
The collection consists primarily of the correspondence of John and Amey (Crawford) Carter and their nine children, including Dr. Benjamin Bowen Carter, a supercargo for the Brown family's China trade vessels and Ann (Carter) Brown, wife of Nicholas Brown (1769-1841). Letters between other family members, including the interrelated Brown, Danforth, and Jenckes families, and with associates, including William and Mary Katherine Goddard of Philadelphia, are also represented.
The collection also contains a limited number of deeds, legal settlements, and other business related material. The majority of the material concerns family news, particularly as John Carter's sons embarked on their various maritime adventures.
Material in the collection spans from 1769 to 1917. The bulk of the material was created between 1769 and 1844 and is calendared with a card file index. After 1844, the material primarily consists of correspondence by Carter's sons-in-law Nicholas Brown and Walter Raleigh Danforth (1787-1861).
Arrangement
The John Carter family papers are arranged chronologically.
Biographical note
Printer and journalist John Carter was born in Philadelphia, Pennsylvania, in 1745. After an apprenticeship with Benjamin Franklin, Carter moved in 1767 to Providence, Rhode Island, and began work with the Providence Gazette, the weekly newspaper operated by William Goddard with his sister, Mary Katherine Goddard, and their mother, Sarah Goddard. When William Goddard moved to Philadelphia to begin publishing the Philadelphia Chronicle in 1768, Carter purchased the Gazette, producing the paper until near his death in 1814. From 1773 to 1779, Carter partnered with William Wilkinson, and the press operated under the name Carter and Wilkinson.
From 1772 until 1792 Carter served as the first Postmaster of Providence (commissioned by his former employer, Benjamin Franklin, who was Postmaster-General). During the Revolutionary War, he served on the Committee of Correspondence.
In 1769, John Carter married Amey Crawford (1744-1806), daughter of Captain John Crawford of Providence. They had twelve children, nine of whom survived into adulthood. Ann Carter, their eldest daughter, married Nicholas Brown of Providence; they were the parents of John Carter Brown. Their eldest son, Benjamin Bowen Carter, studied under Dr. Benjamin Rush and practiced medicine for a short time in Connecticut. He spent most of his career as a doctor and supercargo for the Brown family on many China trade voyages, on the ship Ann &Hope. Carter's other sons, James, Crawford and William, were also involved in maritime trade.
Children of John Carter and Amey Crawford:
Brown, Ann, 1770-1798(Married to Nicholas Brown)
Carter, Benjamin Bowen, 1771-1835
Carter, John, 1774-1815
Carter, Crawford, 1775-779
(Son) Carter, March 20-21, 1777
Jenckes, Rebecca, 1778-1837 (Married to Amos Throop Jenckes)
Carter, James, 1780-ca.1812
Carter, Crawford, 1782-1868
Carter, (Daughter), June-Sept 1783
Carter, William, 1785-1821
Carter, Huldah Maria, 1787-1842
Danforth, Elizabeth Ann, 1790-1876 (Married to Walter Raleigh Danforth)
Access & Use
Access to the collection:
The John Carter Brown Library collections are restricted to use by qualified scholars, engaged in productive research, for whom access to a collection is essential for the advancement of their work. All researchers must register and submit at least two forms of identification, including a driver's license or passport with a photo. Students and unaffiliated scholars must also have a written endorsement of their project from an established college or university professor.
Use of the materials:
Researchers are advised that express written permission to reproduce, quote, or otherwise publish any portion or extract from this collection must be obtained from the John Carter Brown Library. Although the John Carter Brown Library has physical ownership of the collection and the materials contained therein, it does not claim literary rights. It is up to the researcher to determine the owners of the literary rights and to obtain any necessary permissions from them.
Preferred citation:
John Carter family papers, Ms. Carter, John Carter Brown Library.
Contact information:
John Carter Brown Library
Box 1894
Brown University
Providence, RI 02912
Tel: 401-863-2725
Fax: 401-863-3477
email: jcbl_information@brown.edu

Administrative Information
ABOUT THE COLLECTION
 
Acquisition:
The collection was deposited at the John Carter Brown Library through William Greene Roelker, by Mrs. Maurice K. Washburn of East Greenwich, Rhode Island, a descendant of John Carter, in 1938.
Processing information:

Processing note:

This collection was calendared by Ms. Florence Clapp in January 1954, and a card index exists for the papers from 1769 to 1844.
ABOUT THE FINDING AID
 
Author:
Finding aid prepared by Kim Nusco.
Encoding:
Finding aid encoded by Kim Nusco 2010 September 22
Descriptive rules:
Finding aid based on Describing Archives: A Content Standard (DACS)
Additional Information
| | |
| --- | --- |
| Related material: | Carter-Danforth papers, 1722-1929. Bulk, 1790-1840, Rhode Island Historical Society Carter-Danforth papers, Mss. 336 |
Inventory
---
Box 1, Folder 1
1769 - 1780
9 items

1769-1780
Box 1, Folder 1
1781 - 1788
8 items

1781-1788
Box 1, Folder 3
1791 - 1793
9 items

1791-1793
Box 1, Folder 4
1794 - 1799
10 items

1794-1799
Box 1, Folder 5
1800 - 1802
12 items

1800-1802
Box 1, Folder 6
1803 - 1804
12 items

1803-1804
Box 1, Folder 7
Bills of lading, 1804 - 1806
16 items

1804-1806
Box 1, Folder 8
1805
8 items

1805
Box 1, Folder 9
1806 - 1807
13 items

1806-1807
Box 1, Folder 10
1808 - 1813
11 items

1808-1813
Box 1, Folder 11
1814 - 1817
11 items

1814-1817
Box 1, Folder 12
1818 - 1821
8 items

1818-1821
Box 1, Folder 13
1822 - 1829
13 items

1822-1829
Box 1, Folder 14
1831 - 1948
9 items

1831-1848
Box 1, Folder 15
1851 - 1917
8 items

1851-1917
Box 1, Folder 16
Undated
37 items