Guide to the Deveau Collection, circa 1890-1895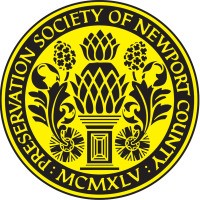 The Preservation Society of Newport County
424 Bellevue Avenue
Newport, RI 02840
Tel: 401-847-1000
KGarrett-Cox@newportmansions.org


Published in 2019
Collection Overview
| | |
| --- | --- |
| Title: | The Deveau Collection |
| Date range: | circa 1890-1895 |
| Creator: | Unknown |
| Extent: | 8 Hollinger Boxes |
| Abstract: | The Deveau Collection is composed of glass negatives taken around Newport, between about 1890 and 1895. The materials photographed include portraits of Newport estates, events, and residents. Also included are images of various Newport streets and landmarks, as well as sailing vessels and Newport Harbor. |
| Language of materials: | English |
| Repository: | The Preservation Society of Newport County |
| Collection number: | PSNCA.H.016 |
Scope & content
According to curatorial inquiries, the Deveau Collection is likely comprised from the stock of a now defunct Newport photographer who operated around the turn of the century. The images include depictions of Newport, as well as the rural landscapes of Jamestown and Middletown. The majority of the photographs focus on architectural elements of Newport's history, showing the exteriors (and some interiors) of great Newport estates—many of which have been demolished. Also featured are local residents, landscapes, and shots of Newport's harbor and wharves.
This collection has been mostly digitized and is available for viewing online at newportalri.org. Items PSNCA.H.016.153 – PSNCA.H.016.181 have not been digitized.
Arrangement
This collection is arranged in what is believed to be the original order in eight document boxes. The collection has not been divided into multiple series.
Access & Use
Access to the collection:
The collection is open to the public, and there are no restrictions on access. However, the collection can only be seen by scheduled appointment.
Use of the materials:
All researchers seeking to publish materials from the collections of the PSNC Archives and Special Collections are requested to contact the archivist, prior to reproducing, quoting, or otherwise publishing any portion or extract from this collection. Although the Preservation Society has physical ownership of the collection and the materials contained therein, it does not claim copyright ownership. It is up to the researcher to determine the owners of the copyright and to obtain any necessary permission from them.
Preferred citation:
"The Preservation Society of Newport County"
Contact information:
The Preservation Society of Newport County
424 Bellevue Avenue
Newport, RI 02840
Tel: 401-847-1000
KGarrett-Cox@newportmansions.org

Administrative Information
| | |
| --- | --- |
| ABOUT THE COLLECTION |   |
| Acquisition: | This collection was purchased in 2012 from Ms. Kathleen E. Deveau. |
| | |
| | |
| ABOUT THE FINDING AID |   |
| Author: | Finding aid written and encoded by Kate McNally, Digitization Archivist. |
| Encoding: | This finding aid was encoded using Oxygen XML Editor, 2019 |
| Descriptive rules: | Finding aid based on Describing Archives: A Content Standard(DACS). |
Additional Information
Inventory
---
Box 1
Glass Plate Negative of a Domestic Interior
Accession Number: PSNCA.H.016.1

circa 1895
Box 1
Glass Plate Negative of the Altar at St. Joseph's Church
Accession Number: PSNCA.H.016.2

circa 1895
Box 1
Glass Plate Negative of the Old Stone Mill and Channing Memorial Church
Accession Number: PSNCA.H.016.3

circa 1895
Box 1
Glass Plate Negative of the Old Stone Mill
Accession Number: PSNCA.H.016.4

circa 1895
Box 1
Glass Plate Negative of the Old Stone Mill
Accession Number: PSNCA.H.016.5

circa 1895
Box 1
Glass Plate Negative of Trinity Church
Accession Number: PSNCA.H.016.6

circa 1895
Box 1
Glass Plate Negative of Trinity Church
Accession Number: PSNCA.H.016.7

circa 1895
Box 1
Glass Plate Negative of a Country Lane
Accession Number: PSNCA.H.016.8

circa 1895
Box 1
Glass Plate Negative of Newport Harbor
Accession Number: PSNCA.H.016.9

circa 1895
Box 1
Glass Plate Negative of the Yacht Squadron, Newport
Accession Number: PSNCA.H.016.10

circa 1895
Box 1
Glass Plate Negative of the Interior of Trinity Church
Accession Number: PSNCA.H.016.11

circa 1895
Box 1
Glass Plate Negative of Rough Point Under Construction
Accession Number: PSNCA.H.016.12

circa 1890
Box 1
Glass Plate Negative of Rough Point Under Construction
Accession Number: PSNCA.H.016.13

circa 1890
Box 1
Glass Plate Negative of Rough Point after Completion
Accession Number: PSNCA.H.016.14

circa 1890
Box 1
Glass Plate Negative of the Yact Squadron, Newport
Accession Number: PSNCA.H.016.15

circa 1895
Box 1
Glass Plate Negative of Channing Memorial Church
Accession Number: PSNCA.H.016.16

circa 1890 - 1895
Box 1
Glass Plate Negative of Beacon Rock Estate
Accession Number: PSNCA.H.016.17

circa 1890 - 1895
Box 1
Glass Plate Negative of Althorpe
Accession Number: PSNCA.H.016.18

circa 1890 - 1895
Box 1
Glass Plate Negative of a Surrey Carriage
Accession Number: PSNCA.H.016.19

circa 1890 - 1895
Box 1
Glass Plate Negative of the Garden at Pansy Cottage
Accession Number: PSNCA.H.016.20

circa 1890 - 1895
Box 1
Glass Plate Negative of the Pansy Cottage Carriage House and Greenhouse
Accession Number: PSNCA.H.016.21

circa 1890 - 1895
Box 1
Glass Plate Negative of the Pansy Cottage Carriage House and Greenhouse
Accession Number: PSNCA.H.016.22

circa 1890 - 1895
Box 1
Glass Plate Negative of The Rocks
Accession Number: PSNCA.H.016.23

circa 1890 - 1895
Box 1
Glass Plate Negative of Greystone
Accession Number: PSNCA.H.016.24

circa 1890 - 1895
Box 1
Glass Plate Negative of Greystone
Accession Number: PSNCA.H.016.25

circa 1890 - 1895
Box 1
Glass Plate Negative of The Rocks
Accession Number: PSNCA.H.016.26

circa 1890 - 1895
Box 1
Glass Plate Negative of Wrentham House
Accession Number: PSNCA.H.016.27

circa 1890 - 1895
Box 1
Glass Plate Negative of The Rocks
Accession Number: PSNCA.H.016.28

circa 1890 - 1895
Box 1
Glass Plate Negative of the Lawn at By-the-Sea
Accession Number: PSNCA.H.016.29

circa 1890 - 1895
Box 2
Glass Plate Negative of The Rocks
Accession Number: PSNCA.H.016.30

circa 1890 - 1895
Box 2
Glass Plate Negative of The Rocks
Accession Number: PSNCA.H.016.31

circa 1890 - 1895
Box 2
Glass Plate Negative of The Rocks
Accession Number: PSNCA.H.016.32

circa 1890 - 1895
Box 2
Glass Plate Negative of Channing Memorial Church
Accession Number: PSNCA.H.016.33

circa 1890 - 1895
Box 2
Glass Plate Negative of the Channing Memorial
Accession Number: PSNCA.H.016.34

circa 1890 - 1895
Box 2
Glass Plate Negative of Fox Hill Farm
Accession Number: PSNCA.H.016.35

circa 1890 - 1895
Box 2
Glass Plate Negative of Mill Street, Newport
Accession Number: PSNCA.H.016.36

circa 1890 - 1895
Box 2
Glass Plate Negative of Harbor Entrance
Accession Number: PSNCA.H.016.37

circa 1890 - 1895
Box 2
Glass Plate Negative of Washington Street
Accession Number: PSNCA.H.016.38

circa 1890 - 1895
Box 2
Glass Plate Negative of a Meadow
Accession Number: PSNCA.H.016.39

circa 1890 - 1895
Box 2
Glass Plate Negative of Rockhurst
Accession Number: PSNCA.H.016.40

circa 1890 - 1895
Box 2
Glass Plate Negative of Rockhurst
Accession Number: PSNCA.H.016.41

circa 1890 - 1895
Box 2
Glass Plate Negative of Bleak House
Accession Number: PSNCA.H.016.42

circa 1890 - 1895
Box 2
Glass Plate Negative of the Harold Brown Villa
Accession Number: PSNCA.H.016.43

circa 1890 - 1895
Box 2
Glass Plate Negative of Midcliff
Accession Number: PSNCA.H.016.44

circa 1890 - 1895
Box 2
Glass Plate Negative of Bleak House
Accession Number: PSNCA.H.016.45

circa 1890 - 1895
Box 2
Glass Plate Negative of Bleak House
Accession Number: PSNCA.H.016.46

circa 1890 - 1895
Box 2
Glass Plate Negative of the Gates at Beechwood
Accession Number: PSNCA.H.016.47

circa 1890 - 1895
Box 2
Glass Plate Negative of St. Joseph's School
Accession Number: PSNCA.H.016.48

circa 1890 - 1895
Box 2
Glass Plate Negative of the Soldiers and Sailors Monument
Accession Number: PSNCA.H.016.49

circa 1890 - 1895
Box 2
Glass Plate Negative of Beaulieu
Accession Number: PSNCA.H.016.50

circa 1890 - 1895
Box 2
Glass Plate Negative of Ocean Lawn
Accession Number: PSNCA.H.016.51

circa 1890 - 1895
Box 2
Glass Plate Negative of a Pond
Accession Number: PSNCA.H.016.52

circa 1890 - 1895
Box 2
Glass Plate Negative of a Caricaturist at Work
Accession Number: PSNCA.H.016.53

circa 1890 - 1895
Box 2
Glass Plate Negative of a Caricaturist at Work
Accession Number: PSNCA.H.016.54

circa 1890 - 1895
Box 3
Glass Plate Negative of a Rural Lane
Accession Number: PSNCA.H.016.55

circa 1890 - 1895
Box 3
Glass Plate Negative of a Domestic Interior
Accession Number: PSNCA.H.016.56

circa 1890 - 1895
Box 3
Glass Plate Negative of a Domestic Interior
Accession Number: PSNCA.H.016.57

circa 1890 - 1895
Box 3
Glass Plate Negative of the Music Room at The Breakers I
Accession Number: PSNCA.H.016.58

circa 1890 - 1895
Box 3
Glass Plate Negative of the Cliff Walk at Forty Steps
Accession Number: PSNCA.H.016.59

circa 1890 - 1895
Box 3
Glass Plate Negative of a Salon in Ocean Lawn
Accession Number: PSNCA.H.016.60

circa 1890 - 1895
Box 3
Glass Plate Negative of Newport Harbor
Accession Number: PSNCA.H.016.61

circa 1890 - 1895
Box 3
Glass Plate Negative of Newport Harbor
Accession Number: PSNCA.H.016.62

circa 1890 - 1895
Box 3
Glass Plate Negative of Rockhurst
Accession Number: PSNCA.H.016.63

circa 1890 - 1895
Box 3
Glass Plate Negative of Newport's Long Wharf
Accession Number: PSNCA.H.016.64

circa 1890 - 1895
Box 3
Glass Plate Negative of Mariemont
Accession Number: PSNCA.H.016.65

circa 1890 - 1895
Box 3
Glass Plate Negative of the Lime Rock Lifesaving Station
Accession Number: PSNCA.H.016.66

circa 1890 - 1895
Box 3
Glass Plate Negative of The Reef
Accession Number: PSNCA.H.016.67

circa 1890 - 1895
Box 3
Glass Plate Negative of Rockhurst
Accession Number: PSNCA.H.016.68

circa1890 - 1895
Box 3
Glass Plate Negative of the Lime Rock Lifesaving Station
Accession Number: PSNCA.H.016.69

circa 1890 - 1891
Box 3
Glass Plate Negative of The Breakers
Accession Number: PSNCA.H.016.70

circa 1895
Box 3
Glass Plate Negative of The Reefs
Accession Number: PSNCA.H.016.71

circa 1890 - 1895
Box 3
Glass Plate Negative of Lime Rock in Newport Harbor
Accession Number: PSNCA.H.016.72

circa 1890 - 1895
Box 3
Glass Plate Negative of Ocean View
Accession Number: PSNCA.H.016.73

circa 1890 - 1895
Box 3
Glass Plate Negative of Forty Steps
Accession Number: PSNCA.H.016.74

circa 1890 - 1895
Box 3
Glass Plate Negative of Four Newport Cottages
Accession Number: PSNCA.H.016.75

circa 1890 - 1895
Box 3
Glass Plate Negative of Vinland
Accession Number: PSNCA.H.016.76

circa 1890 - 1895
Box 3
Glass Plate Negative of the Kinsley Building
Accession Number: PSNCA.H.016.77

circa 1890 - 1895
Box 4
Glass Plate Negative of the Land Trust Cottages
Accession Number: PSNCA.H.016.78

circa 1890 - 1895
Box 4
Glass Plate Negative of Fort Dumpling
Accession Number: PSNCA.H.016.79

circa 1890 - 1895
Box 4
Glass Plate Negative of Children Swimming in the East Passage
Accession Number: PSNCA.H.016.80

circa 1890 - 1895
Box 4
Glass Plate Negative of the Sky Above a Cemetery
Accession Number: PSNCA.H.016.81

circa 1890 - 1895
Box 4
Glass Plate Negative of Inchiquin
Accession Number: PSNCA.H.016.82

circa 1890 - 1895
Box 4
Glass Plate Negative of Inchiquin
Accession Number: PSNCA.H.016.83

circa 1890 - 1895
Box 4
Glass Plate Negative of the Interior of Inchiquin
Accession Number: PSNCA.H.016.84

circa 1890 - 1895
Box 4
Glass Plate Negative of the Spouting Rock at Bailey's Beach
Accession Number: PSNCA.H.016.85

circa 1890 - 1895
Box 4
Glass Plate Negative of Chastellux
Accession Number: PSNCA.H.016.86

circa 1890 - 1895
Box 4
Glass Plate Negative of Chastellux
Accession Number: PSNCA.H.016.87

circa 1890 - 1895
Box 4
Glass Plate Negative of Chastellux
Accession Number: PSNCA.H.016.88

circa 1890 - 1895
Box 4
Glass Plate Negative of the Ellen F. Mason Cottage
Accession Number: PSNCA.H.016.89

circa 1895
Box 4
Glass Plate Negative of the Great Hall at Inchiquin
Accession Number: PSNCA.H.016.90

circa 1890 - 1895
Box 4
Glass Plate Negative of the Goelet Fishing Camp at Beavertail, Jamestown
Accession Number: PSNCA.H.016.91

circa 1890 - 1895
Box 4
Glass Plate Negative of The Rocks
Accession Number: PSNCA.H.016.92

circa 1890 - 1895
Box 4
Glass Plate Negative of The Rocks
Accession Number: PSNCA.H.016.93

circa 1890 - 1895
Box 4
Glass Plate Negative of The Rocks
Accession Number: PSNCA.H.016.94

circa 1890 - 1895
Box 4
Glass Plate negative of The Rocks
Accession Number: PSNCA.H.016.95

circa 1890 - 1895
Box 4
Glass Plate Negative of Mariemont
Accession Number: PSNCA.H.016.96

circa 1890 - 1895
Box 4
Glass Plate Negative of Mariemont
Accession Number: PSNCA.H.016.97

circa 1890 - 1895
Box 4
Glass Plate Negative of Mariemont
Accession Number: PSNCA.H.016.98

circa 1890 - 1895
Box 5
Glass Plate Negative of the Original Breakers
Accession Number: PSNCA.H.016.99

circa 1890 - 1893
Box 5
Glass Plate Negative of the Original Breakers
Accession Number: PSNCA.H.016.100

circa 1890 - 1893
Box 5
Glass Plate Negative of a Domestic Interior
Accession Number: PSNCA.H.016.101

circa 1890 - 1895
Box 5
Glass Plate Negative of a Domestic Interior
Accession Number: PSNCA.H.016.102

circa 1890 - 1895
Box 5
Glass Plate Negative of a Domestic Interior
Accession Number: PSNCA.H.016.103

circa 1890 - 1895
Box 5
Glass Plate Negative of a Domestic Interior
Accession Number: PSNCA.H.016.104

circa 1890 - 1895
Box 5
Glass Plate Negative of a Domestic Interior
Accession Number: PSNCA.H.016.105

circa 1890 - 1895
Box 5
Glass Plate Negative of the Original Breakers
Accession Number: PSNCA.H.016.106

circa 1890 - 1895
Box 5
Glass Plate Negative of Thames Street at Mill Street
Accession Number: PSNCA.H.016.107

circa 1890 - 1895
Box 5
Glass Plate Negative of the Middletown Countryside
Accession Number: PSNCA.H.016.108

circa 1890 - 1895
Box 5
Glass Plate Negative of Alfred Gwynne Vanderbilt at Oakland Farm
Accession Number: PSNCA.H.016.109

circa 1890 - 1895
Box 5
Glass Plate Negative of the View from Harbor View
Accession Number: PSNCA.H.016.110

circa 1890 - 1895
Box 5
Glass Plate Negative of Rockhurst
Accession Number: PSNCA.H.016.111

circa 1890 - 1895
Box 5
Glass Plate Negative of Rockhurst
Accession Number: PSNCA.H.016.112

circa 1890 - 1895
Box 5
Glass Plate Negative of St. Columba's Chapel
Accession Number: PSNCA.H.016.113

circa 1890 - 1895
Box 5
Glass Plate Negative of Beechwood
Accession Number: PSNCA.H.016.114

circa 1890 - 1895
Box 5
Glass Plate Negative of the Newport Casino Block
Accession Number: PSNCA.H.016.115

circa 1890 - 1895
Box 5
Glass Plate Negative of a Blueprint of the Block of Shops at 37 Bellevue Ave.
Accession Number: PSNCA.H.016.116

circa 1890 - 1895
Box 5
Glass Plate Negative of Wayside
Accession Number: PSNCA.H.016.117

circa 1890 - 1895
Box 5
Glass Plate Negative of By-the-Sea
Accession Number: PSNCA.H.016.118

circa 1890 - 1895
Box 5
Glass Plate Negative of Bleak House
Accession Number: PSNCA.H.016.119

circa 1890 - 1895
Box 5
Glass Plate Negative of the Old Stone Mill
Accession Number: PSNCA.H.016.120

circa 1890 - 1895
Box 6
Glass Plate Negative of the Original Elms
Accession Number: PSNCA.H.016.121

circa 1885 - 1895
Box 6
Glass Plate Negative of an Unidentified House
Accession Number: PSNCA.H.016.122

circa 1890 - 1895
Box 6
Glass Plate Negative of Harbor Entrance
Accession Number: PSNCA.H.016.123

circa 1890 - 1895
Box 6
Glass Plate Negative of Fox Hill Farm
Accession Number: PSNCA.H.016.124

circa 1890 - 1895
Box 6
Glass Plate Negative of Fox Hill Farm
Accession Number: PSNCA.H.016.125

circa 1890 - 1895
Box 6
Glass Plate Negative of Althorpe
Accession Number: PSNCA.H.016.126

circa 1890 - 1895
Box 6
Glass Plate Negative of the Gordon McKay Cottage
Accession Number: PSNCA.H.016.127

circa 1895
Box 6
Glass Plate Negative of Honeysuckle Lodge
Accession Number: PSNCA.H.016.128

circa 1890 - 1895
Box 6
Glass Plate Negative of Bateman's Hotel and Tennis Court
Accession Number: PSNCA.H.016.129

circa 1890 - 1895
Box 6
Glass Plate Negative of the View from a Ferry between Jamestown and Newport
Accession Number: PSNCA.H.016.130

circa 1890 - 1895
Box 6
Glass Plate Negative of the Old Stone Mill
Accession Number: PSNCA.H.016.131

circa 1890 - 1895
Box 6
Glass Plate Negative of Chateau-sur-Mer
Accession Number: PSNCA.H.016.132

circa 1890 - 1895
Box 6
Glass Plate Negative of the Abraham Redwood Farm, Portsmouth
Accession Number: PSNCA.H.016.133

circa 1890 - 1895
Box 6
Glass Plate Negative of the Soldiers and Sailors
Accession Number: PSNCA.H.016.134

circa 1890 - 1895
Box 6
Glass Plate Negative of Beech Bound
Accession Number: PSNCA.H.016.135

circa 1890 - 1895
Box 6
Glass Plate Negative of the Fishing Pier at Graves Point
Accession Number: PSNCA.H.016.136

circa 1890 - 1895
Box 6
Glass Plate Negative of the H.A.C. Taylor House
Accession Number: PSNCA.H.016.137

circa 1890 - 1895
Box 6
Glass Plate Negative of Trinity Church
Accession Number: PSNCA.H.016.138

circa 1890 - 1895
Box 6
Glass Plate Negative of the Gates at Wakehurst
Accession Number: PSNCA.H.016.139

circa 1890 - 1895
Box 6
Glass Plate Negative of the Newport Country Club
Accession Number: PSNCA.H.016.140

circa 1890 - 1895
Box 6
Glass Plate Negative of a Blueprint of the Block of Shops at 37 Bellevue Ave.
Accession Number: PSNCA.H.016.141

circa 1890 - 1895
Box 7
Glass Plate Negative of The Reefs
Accession Number: PSNCA.H.016.142

circa 1890 - 1895
Box 7
Glass Plate Negative of Niagara Falls
Accession Number: PSNCA.H.016.143

circa 1890 - 1895
Box 7
Glass Plate Negative of a Nature Trail
Accession Number: PSNCA.H.016.144

circa 1890 - 1895
Box 7
Glass Plate Negative of Purgatory Chasm
Accession Number: PSNCA.H.016.145

circa 1890 - 1895
Box 7
Glass Plate Negative of Wakehurst
Accession Number: PSNCA.H.016.146

circa 1890 - 1895
Box 7
Glass Plate Negative of the Entrance Drive at Oakland Farm
Accession Number: PSNCA.H.016.147

circa 1890 - 1895
Box 7
Glass Plate Negative of Ochre Point
Accession Number: PSNCA.H.016.148

circa 1890 - 1895
Box 7
Glass Plate Negative of a Rural Lane in Middletown
Accession Number: PSNCA.H.016.149

circa 1890 - 1895
Box 7
Glass Plate Negative of Sea View
Accession Number: PSNCA.H.016.150

circa 1890 - 1905
Box 7
Glass Plate Negative of the Cliff Walk
Accession Number: PSNCA.H.016.151

circa 1890 - 1895
Box 7
Glass Plate Negative of a Still Life of Fruit
Accession Number: PSNCA.H.016.152

circa 1890 - 1895
Box 7
Glass Plate Negative of an Engraving of West Point Academy
Accession Number: PSNCA.H.016.153

circa 1890 - 1895
Box 7
Glass Plate Negative of the Newport Country Club
Accession Number: PSNCA.H.016.154

circa 1890 - 1895
Box 7
Glass Plate Negative of The Rocks
Accession Number: PSNCA.H.016.155

circa 1890 - 1895
Box 7
Glass Plate Negative of the Kinsley Building
Accession Number: PSNCA.H.016.156

circa 1890 - 1895
Box 7
Glass Plate Negative of Rough Point
Accession Number: PSNCA.H.016.157

circa 1890 - 1895
Box 7
Glass Plate Negative of The Rocks and the Robert Cushing Villa
Accession Number: PSNCA.H.016.158

circa 1890 - 1895
Box 7
Glass Plate Negative of the Downing Plot at Island Cemetery
Accession Number: PSNCA.H.016.159

circa 1890 - 1895
Box 7
Glass Plate Negative of the Belmont Chapel at Island Cemetery
Accession Number: PSNCA.H.016.160

circa 1890 - 1895
Box 7
Glass Plate Negative of the Belmont Chapel at Island Cemetery
Accession Number: PSNCA.H.016.161

circa 1890 - 1895
Box 7
Glass Plate Negative of a Domestic Interior
Accession Number: PSNCA.H.016.162

circa 1890 - 1895
Box 8
Glass Plate Negative of a Domestic Interior
Accession Number: PSNCA.H.016.163

circa 1890 - 1895
Box 8
Glass Plate Negative of a Domestic Interior
Accession Number: PSNCA.H.016.164

circa 1890 - 1895
Box 8
Glass Plate Negative of a Domestic Interior
Accession Number: PSNCA.H.016.165

circa 1890 - 1895
Box 8
Glass Plate Negative of Hunters
Accession Number: PSNCA.H.016.166

circa 1890 - 1895
Box 8
Glass Plate Negative of Niagara Falls
Accession Number: PSNCA.H.016.167

circa 1890 - 1895
Box 8
Glass Plate Negative of Niagara Falls
Accession Number: PSNCA.H.016.168

circa 1890 - 1895
Box 8
Glass Plate Negative of Vinland
Accession Number: PSNCA.H.016.169

circa 1890 - 1895
Box 8
Glass Plate Negative of the Gates at Beaulieu
Accession Number: PSNCA.H.016.170

circa 1890 - 1895
Box 8
Glass Plate Negative of Rough Point
Accession Number: PSNCA.H.016.171

circa 1890 - 1895
Box 8
Glass Plate Negative of Rough Point
Accession Number: PSNCA.H.016.172

circa 1890 - 1895
Box 8
Glass Plate Negative of Rough Point
Accession Number: PSNCA.H.016.173

circa 1890 - 1895
Box 8
Glass Plate Negative of Rough Point
Accession Number: PSNCA.H.016.174

circa 1890 - 1895
Box 8
Glass Plate Negative of Rough Point
Accession Number: PSNCA.H.016.175

circa 1890 - 1895
Box 8
Glass Plate Negative of Rough Point
Accession Number: PSNCA.H.016.176

circa 1890 - 1895
Box 8
Glass Plate Negative of Rough Point
Accession Number: PSNCA.H.016.177

circa 1890 - 1895
Box 8
Glass Plate Negative of an Architectural Plan
Accession Number: PSNCA.H.016.178

circa 1890 - 1895
Box 8
Glass Plate Negative of the Goelet Fishing Camp
Accession Number: PSNCA.H.016.179

circa 1890 - 1895
Box 8
Blank Glass Plate Negative
Accession Number: PSNCA.H.016.180

circa 1890 - 1895
Box 8
Blank Glass Plate Negative
Accession Number: PSNCA.H.016.181

circa 1890 - 1895